Hide and Seek Ghost Recon: Wildlands Mission
Group: Ghost Recon: Wildlands - Fallen Ghosts DLC
Type: Story Mission
Province: Western Precinct
Finally, our network of new friends has provided us with intel on Major Rocha's location. He's an elusive man, you'll need your eagle eye.
Prior missions
To begin Hide and Seek you must first complete The Trail, Ghosts, Union Rights and Saving La Granja.
Objectives of Hide and Seek
1. Enter the camp and look for Major Rocha
Alarm tower, mortar, elite snipers, jammers, and a lot of covert ops soldiers.
When you reach the upper part of the camp, Rocha will try to escape.
3. Kill Major Rocha
Follow his footprints.
They are very well visible in thermo vision.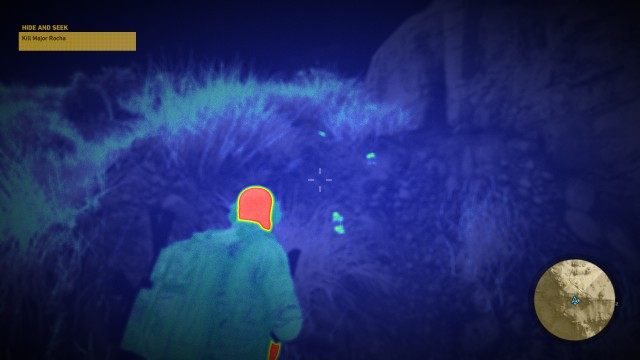 You will have to kill two covert ops soldiers ...
... and finally, Major Rocha himself.
After killing him, you will receive a new crossbow - Deimos Crossbow.
Deimos Crossbow, Crossbow

Upgraded version of the Phobos Crossbow.
4. Mission Complete
Major Rocha ought to be pleased he's become the specter he always dreamt he could be. "Ghost vs. Specters" ... that would be a kickass summer flick.
After completing Hide and Seek you will get or will be able to get Colonel Merlo (1 of 3).