Here Be Pirates Assassin's Creed Odyssey Quest
Group: The Lost Tales of Greece
Category: One Really, Really Bad Day
Ready or not, the pirates stormed Alponos. Despite everything that had happened, Alexios agreed to stand beside Megakles and fight. Hopefully it would be enough...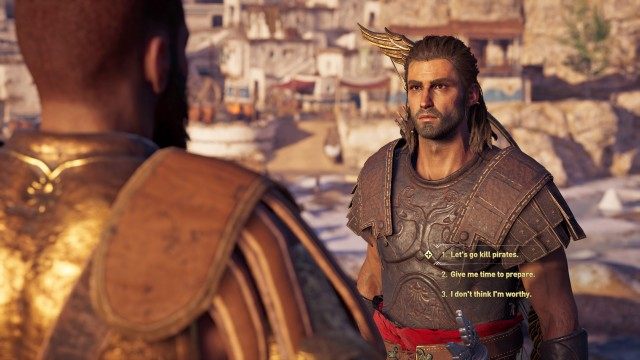 Prior quests
To begin Here Be Pirates you must first complete A Town in Need, Indeed.
Objectives of Here Be Pirates
1. Kill the bandits attacking the salt mines
This objective will be available if you lied at least twice while talking to Megakles in A Town in Need, Indeed quest.
3. Talk to Megakles
During the conversation, you'll have to make a choice.
Now you die because of me. - You'll have to kill Megakles and you'll find the Letter from the "Eagle Bearer" and some drachmae in his body (1500).
Time to pay up.
I'm glad Alponos is safe.
In the second and third cases, Megakles will thank you, give you the Letter from the "Eagle Bearer", and give you much more money (9000).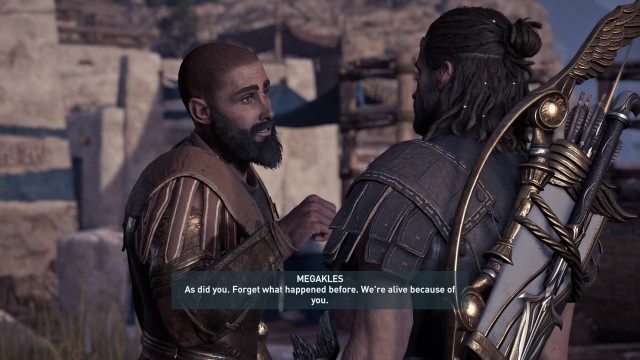 4. Quest Completed
Rewards: Rare XP, Legendary Drachmae
After completing Here Be Pirates you will get or will be able to get There Can Be Only One.