Praxilla's Admirer Assassin's Creed Odyssey Quest
Group: The Lost Tales of Greece
Category: A Poet's Legacy
To start this quest you have to go to Boeotia and talk to Alkibiades and Orchimedes. You will find them near the Port of Kreusis.
On the coast of Boeotia there was a famed poetry festival. It was here that Alexios was tasked in aiding a young poet with wooing hisidol, the beautiful Praxilla.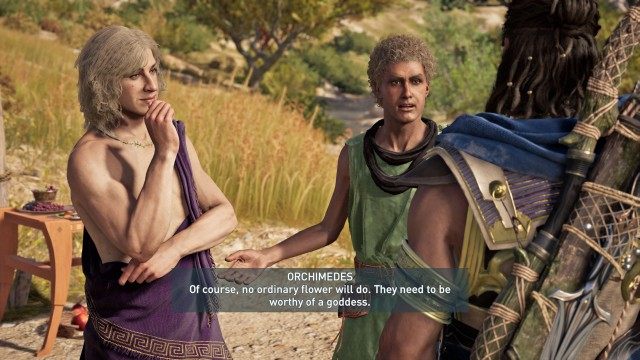 Related points of interest

Alkibiades World Map
Objectives of Praxilla's Admirer
2. Deliver the flowers to Orchimedes
Return to Orchimedes and talk to him.
No matter what you tell him, you will have to deliver the flowers to Praxilla.
3. Quest Completed
Reward: Rare XP
After completing Praxilla's Admirer you will get or will be able to get Lyre Lyre.