Bucket List Fallout 76 Quest
Group: Side Quests
In order to start this quest you have to find a Broken ProSnap Deluxe Camera first. These are located on the bodies of dead tourists.
There are many different places where dead tourists with broken cameras can be found. They may spawn in randomly selected places that are tourist attractions such as: Wavy Willard's Water Park, Philippi Battlefield Cemetery, Colonel Kelly Monument, Prickett's Fort, etc. I found the body in the parking lot next to the entrance to the Wavy Willard's Water Park. Tourist bodies can be easily identified, because they look a bit different from other corpses in the game, and they're wearing the clothes that are "typical for tourists".
Finish off the deceased tourist's bucket list of photographic souvenirs.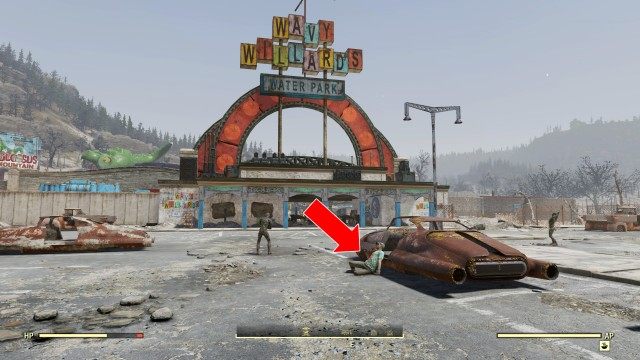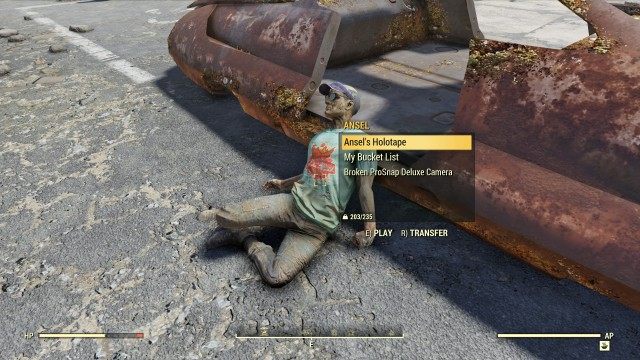 Quest stages of Bucket List
1. Craft a Camera at a Tinker's Workbench
I found the corpse of a tourist who was never able to complete their bucket list. If I repair the tourist's camera, I could live out their last wishes and complete the list myself.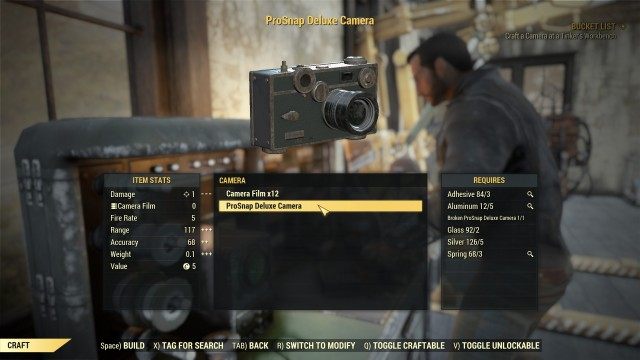 To craft the ProSnap Deluxe Camera you need:
Broken ProSnap Deluxe Camera x 1
Adhesive x 3
Aluminum x 5
Glass x 2
Silver x 5
Spring x 3
You will also need a film to use the camera.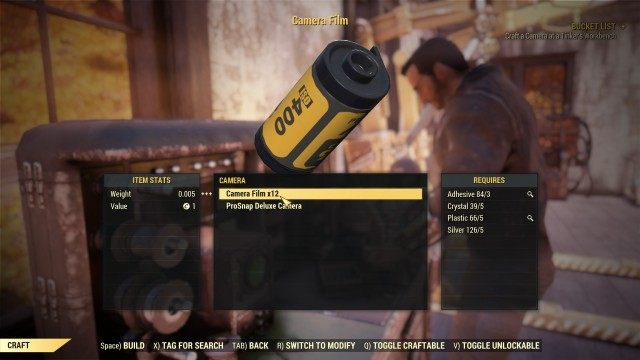 To craft one roll of Camera Film you need:
Adhesive x 3
Crystal x 5
Plastic x 5
Silver x 5
2. Complete the Tourist's Bucket List (0/7)
Now that I've repaired the tourist's camera, I should visit each location listed on their bucket list and take a photograph.
The ProSnap Deluxe Camera can be used just like a weapon. Equip it, and then simply use the "Aim" button to look through the camera lens, and then the "Attack" button to take a picture.
You have to visit, and take in each of them a photo, seven locations written down on the list you found with the broken camera > Your Inventory > Notes > My Bucket List.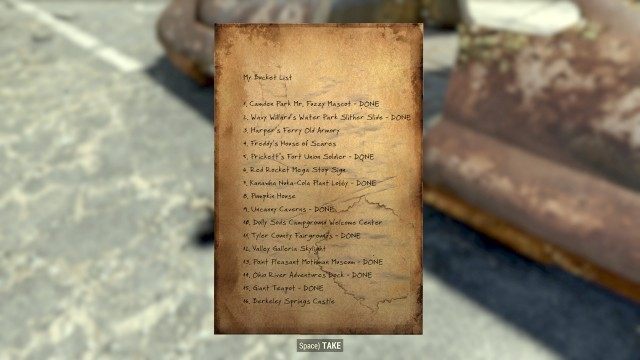 All the places will be marked on the map, six of them are outdoors and one is in the building.