The Bright One Assassin's Creed Odyssey Quest
Group: Bounties
This quest should appear automatically in your quest log when you enter the game (if you have the right level of experience?).
The mighty Arges, known as the Bright One, was active once again. He was seen. hungry and prowling, in the bowels of a fiery volcano.
Recommended level: 50+
Related points of interest

Cyclops Arges World Map
Objectives of The Bright One
1. Find and Kill Arges
Hints:
Arges is on Nisyros island
He was seen at the center of the Angry Caldera of Arges
Go to Cyclops Arges on Nisyros island.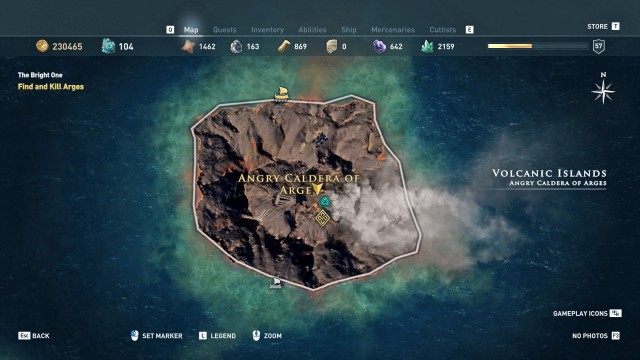 Arges is hiding inside the cave. When you reach the arena, he will come out.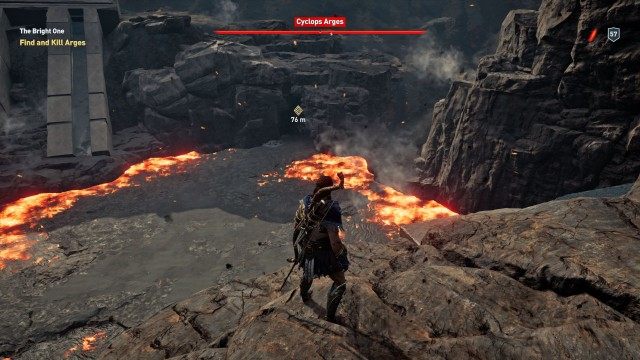 IMO, a good bow is the best weapon here. Stay at a distance from him and move a lot to avoid his ranged attacks e.g. "lava balls" or "black spots" on the ground. Don't let him charge you. Try to shoot his eye. When he goes down you can try to hit him a few times with a melee weapon. Don't fall into the lava :-P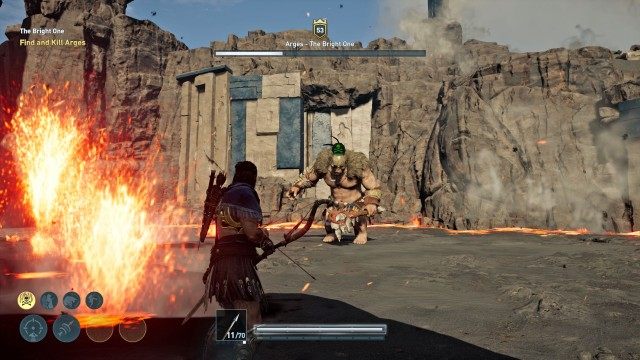 2. Quest Completed
Rewards: Legendary XP, Legendary Drachmae, Hammer of Hephaistos (Legendary Heavy Blunt), New Engraving (+25% Elemental Damage but -25% Physical Damage)