Riding Derby Far Cry New Dawn Mission
Group: Story Missions - Act 3 (Deep Cover)
Difficulty: III
Some time after completing mission Inside Job you will receive a radio message from Irwin that demolition derby will soon start and this mission will appear in your journal.
Drive in the Demolition derby to get close to the Highwaymen Lieutenants.
Related points of interest

Lorna's Tears Hope County

The Meat Grinder Hope County
Prior missions
To begin Riding Derby you must first complete Inside Job.
Mission objectives of Riding Derby
1. TALK to Irwin
Irwin will be waiting for you near Lorna's Tears.
3. ENTER the car / DRIVE to the arena / ENTER the arena / REACH the starting line
Get into the car and go to The Meat Grinder.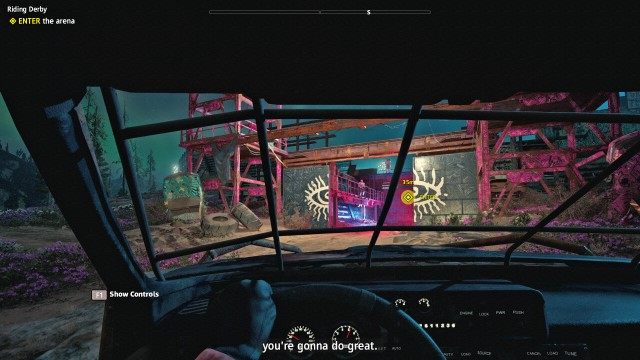 4. ELIMINATE your opponents
Drive around and shoot all the enemies in the arena. Run over boxes with ping road flares to get ammo.
You can also get out of the car and eliminate enemies in this way. Just be careful not to be crushed.
6. ENTER the VIP section
Go up the ladder to the upper level and go to the marked room. Inside you will meet twins. After a while Ethan will join the party. It seems that the twins and Ethan have a deal that they are about to carry out.
8. RETURN to the party / KILL the lieutenants
When you return to the room, the time will be slowed down. Aim carefully and eliminate all enemies there.
After completing Riding Derby you will get or will be able to get Problem Solver.