Miner Miracles Fallout 76 Quest
Group: Side Quests
To start this quest you should find the Garrahan Excavator Poster and examine it. There is one outside The Rusty Pick building. To complete this quest you must be at least level 25.
Because the smart miner can always use an extra pair of hands.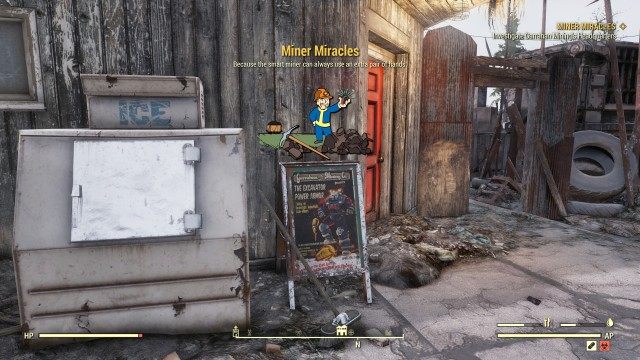 Related points of interest

The Rusty Pick Appalachia / West Virginia

Garrahan Mining Headquarters Appalachia / West Virginia
Quest stages of Miner Miracles
1. Discover Garrahan Mining's Innovation
One of the Garrahan Excavator Posters is located outside The Rusty Pick building.
2. Investigate Garrahan Mining's Headquarters
I've discovered a poster depicting something called the "Excavator Power Armor." It appears to be manufactured by the Garrahan Mining Company. To learn more about this unusual armor, I should explore their headquarters.
Go to Garrahan Mining Headquarters and enter the buiding.
Find and use Reception Terminal > Memo: Excavator Queries.
3. Consult the Project Manager's Terminal
Garrahan Mining's Reception Terminal mentioned that their company's "Excavator Power Armor" was being handled by someone named "Harold Frost" in the R&D Department. I should head there and examine his records.
Locate the Project Manager's Terminal in another room of the complex > Excavator Module Blueprints.
4. Build Excavator Power Armor
Harold Frost's records revealed a wealth of information regarding Garrahan's Excavator Power Armor, including blueprints. I've decided to make some of the armor pieces for myself at a Power Armor Workbench.
To create armor you will need a lot of ingredients. The rarest of them is Black Titanium and you need 36 pieces of it. It can be obtained in several ways:
You can farm Mole Miners for Miner Suit Scraps worth a single piece of black titanium each. (IMO the fastest way to get them, you can server jump, etc.)
They can be gathered from veins and then smelted at a chemistry station.
Black titanium can also be found in Gorge Junkyard public workshop.
The deathclaw that spawns at Deathclaw Island drops it.
In order to start creating armor, you must also have Power Armor Chassis and place it in front of the Power Armor Station.
5. Register Excavator Power Armor Full Suit
I've completed a full set of Excavator Power Armor. I should now mount the parts on a Power Armor Frame and then register it with Garrahan's Mainframe so it can fully unlock the suit's mining functionality.
Equip full set of excavator power armor and scan it.
6. (Quest completed)
I've successfully registered the Excavator Power Armor with Garrahan's Mainframe. With the suit's mining capabilities unlocked, I should now be able to mine ore much more efficiently.
One of the rewards for completing the quest will be Plan: Power Armor Stations.