Daily: Mistaken Identity Fallout 76 Quest
Group: Daily Quests
Category: The Ash Heap
This quest will appear in your Pip-Boy in the "daily" section when you approach the Camden Park.
Join the fun at Camden Park as a member of Mr. Fuzzy's crew
Note: Currently, this page contains raw quest data only. I know that it is not much, and I will try to update it with more valuable information as soon as possible.
Related points of interest

Camden Park Appalachia / West Virginia
Quest stages of Daily: Mistaken Identity
1. Go to Camden Park
There's some kind of amusement area called Camden Park which claims to be the best place to have a good time. I could use some fun.
2. Go to the Camden Park Main Entrance
This place looks interesting. Some kind of amusement park. I think I see a roller coaster!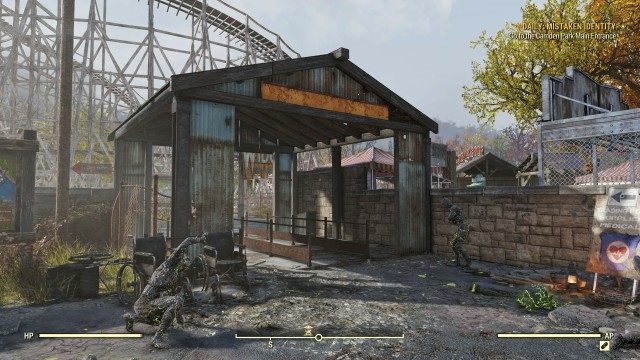 3. Report for your Shift
I've arrived at Camden Park and it looks like it was a great place in its heyday. The loudspeaker is making announcements so maybe something is going on.
Find and talk to the Camden Park Security robot.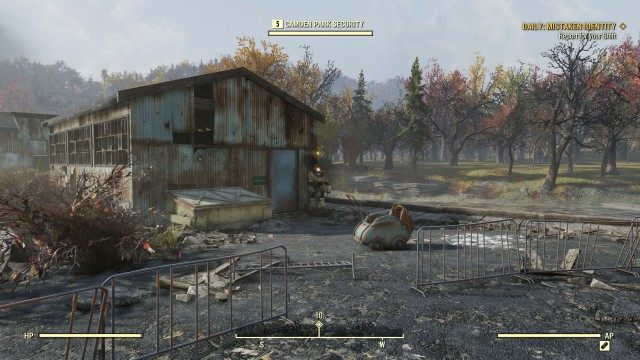 4. Put on your Uniform
The robot here has mistaken me for someone else and sent me into the employee area to get dressed. Apparently I'm late for my shift.
Get and put on the Camden Park Uniform.
5. Clock in for your Shift
I look pretty good in this outfit if I do say so myself! Time to clock in and get to work.
Activate the Timeclock. You will receive three new quests.
8. Talk to the Boss
I played all of the games and I guess they're calibrated now. Now I'm supposed to go see the boss. This should be interesting.
9. (Quest completed)
The boss wasn't very happy with me but I have tokens and now I know where to spend them.